Enabling People To Live Healthier Lives 
Top Rated Local® Medical Care

Pilates is a wonderful means of exercise that incorporates strength, flexibility, posture, and endurance exercise into a workout. LIV Integrative Health utilizes Pilates as a means of helping our clients improve their health and well-being. We start with an initial health evaluation that will let us know whether or not our Pilates classes are right for you. Since this form of exercise is designed to improve physical strength, core strength, stability, flexibility, endurance, posture, and enhance your mental awareness, we will use our evaluation to assess the areas of your body that would benefit. Through the use of the reformer and Cadillac, our Pilates instructors are trained to reinforce proper form under the guidance of our team of medical doctors, chiropractors, and physical therapists. Our Pilates studio might be the perfect way to improve your health while improving your body. Each Pilates class is designed to fit with different levels of expertise.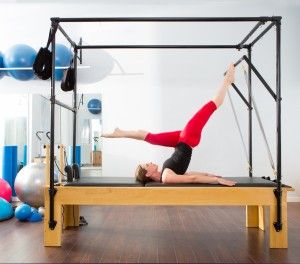 Benefitting From Pilates With Our Integrative Medicine
Combining Pilates with one or more approaches may prove to be the best solution to help you optimize your health and enjoyment of life. There are many benefits to trying our Pilates class, with such a wide range of positives that the class is sure to be ideal for many different individuals. Beyond the direct benefits of blood flow, muscle strength, and flexibility, you can also thrive with Pilates because the exercise is:
Scalable. Pilates can be modified to be as gentle or as challenging as you need it to be. By focusing on low-impact movements, patients are able to improve their bodies in a safe, steady manner.
Comprehensive. Much like our integrative medicine practice, Pilates focuses on all-over fitness to keep your body strong and balanced. Even your feet and ankles will be worked out!
Refreshing. By helping to correct your body's alignment, Pilates promotes higher energy levels and fresh feelings.
Pilates is one part of the integrative health puzzle here at our wellness center. Contact us today to learn more about our dynamic Pilates treatments.
"She Increased Mobility In My Knee!!"
As a bridal and ready to wear dress designer, Dr. BeVier helped me during a time where I needed to be on my feet and attentive to details. I was suffering from both pain and lack of mobility due to… Read More
Rita V. - New York
"My Headaches Are So Much Better!"
My headaches are so much better since Dr. BeVier has been treating my neck pain. Overall I have more energy and flexibility again. Thank you Dr. BeVier!… Read More
Susan H. - Orange County, CA